It's been a month since we took down the show at the NEH Library. The Painting Bridges show was successful on so many levels:
We were able to celebrate the completion of the project.
We were able to thank all of the volunteers and see many of them at the receptions.
We heard so many positive remarks about the photos and the project from various people who heard about the project.
We were thrilled with how many people purchased photos.
Because all of the profits during the month of May were donated to Friends of Acadia, we were happy to be able to present them with a check for $4000.00. The light painters made that happen – THANK YOU!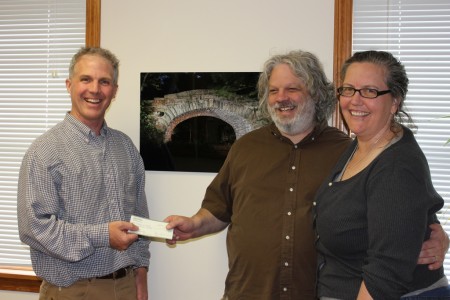 Thank you to everyone who came out to the show, either at the receptions, or just going to the library. And a big thank you to everyone who purchased a print (or prints!). This whole project has been great for us, and we hope you all enjoyed it too. We couldn't have done it without you!
There will be two talks about the project this summer, if you are interested in attending. One at SWH Library on July 23, and one at Jesup Library on August 9.